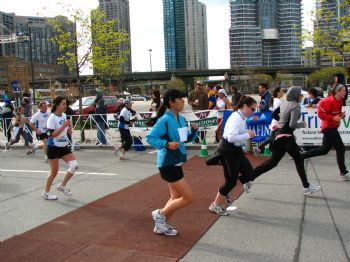 This race was definitely easier than I anticipated. I was thinking that there would be brutal downhills where I'd feel out of control (hate that, give me hills any day!) Chip time was 56:17, well ahead of my anticipated time of 1:00+.
Things to note:
- I slept well last night. Usually the night before I am nervous/excited and end up tossing and turning.
- Curse whoever neglected to put a zip tie and safety pins in my race kit.
- After 29 years and 322 days, I used a porta-potty. I was hoping I would remain a porta-potty virgin FOREVER.
- I bumped into the former head trainer from my gym, who I always thought was a elite super fast runner. I checked the stats and I finished a minute ahead of her!
I leave you with a lovely picture of me sprinting across the finish line, courtesy of my dad.