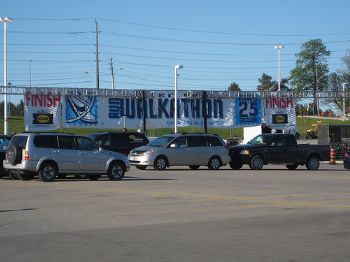 time: 1:03:21 ugh!
course: 3 giant rolling hills
"Recreational" runners/walkers did an 8.5km route.
It turns out that to bump the distance to an even 10K, all "elite" runners run an extra lap around the mall.
Since this race is a charity fun run, there are no timing chips. I figured you didn't have to do anything special to qualify as an "elite" runner. I was wearing my shirt that says, In my dreams I am a Kenyan and a lady came up and said, with a shirt like yours, you should be with the elite runners. So my shirt kind of came true, just for this race, I got to go in the elite starting corral with only about 20 other people and pretend I was a Kenyan!
So we started first to do the extra mall lap and theoretically all the runners should have been out of the way when the walkers started, but I was juuuuuuuuuust coming up behind them when they started, so I had to get through the slowest walkers..and dogs..and strollers...and children.
I did that starting mall lap WAY too fast, 1.something km in something like 8 minutes and went pretty slow the rest of the way.
But overall, not too bad for a fun run.