connect.garmin.com/activ
ity/6104580
I was up and at 'em at 4 am. I grabbed all my gear that I had laid out the night before and headed to the sitting area of the hotel room to get ready. This is my everlasting dilemma: do I engage in the task of taping up my feet before or after coffee? It requires concentration to do it right and I am not awake before coffee, but I also need lots of time as it often needs to be done more than once. My parents showed up at our hotel room slightly earlier than the 6:15 we had agreed upon...I finished taping my feet around 5:45 and was still not done eating my bagel/PB/banana!
Headed off to the start with Greg and my parents. It was already 15 C, so my throw-away shirt made it back home instead of on the sidelines as the race started. Thank you Ottawa city council for having plenty of bushes around city hall so I didn't have to line up for the porta potty.

The marathon was the smallest race of the weekend (4200 participants), so the corrals were a lot less crowded than what I'm used to.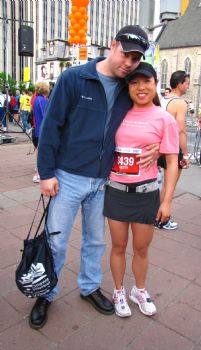 This whole time, I'm numb...when the starting horn went off, and the crowd started walking forward, that was when the moment of truth finally hit me.
OH MY GOD WHAT AM I DOING?!
First 10K was rather uneventful. The route took us past the Parliament buildings and over the river to Gatineau, Quebec. Around 2K a lady let me know that my skirt was once again, tucked up into my hydration belt. NOT AGAIN! The route had small rolling hills, but nothing major.
At 10K, I saw Greg and my parents for the first time.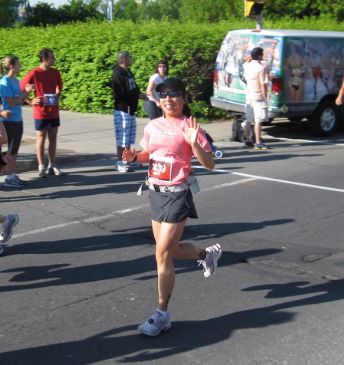 At this point, I felt a small blister twinge in my left foot and decided to stop to fix it because the other choice would be to keep going and have that twinge become a MAJOR blister, potential DNF. Sure enough, there was a small wrinkle in the tape that I smoothed out. Around 12K the twinges were continuing so I stopped again, applied lip balm for lube, and my foot stopped complaining.
Interesting things/people I saw during the race:
- guy in a ratty old bathrobe at the start (good idea for a throw-away!)
- a very young boy playing his quarter sized violin for course entertainment
- group of elementary school children (obviously just starting with band instruments), playing Mary Had A Little Lamb with their teacher conducting
- guy dressed in a gorilla suit (spectator, not runner)
- volunteers scooping up cups with a hockey stick (how very Canadian!)
- a sign that read, "athletic support up ahead" and a bra and a jockstrap glued to a board. You were supposed to grope the "athletic support" of your choice.
Kms 15-20 was in a beautiful tree lined neighbourhood filled with stately old mansions. I ran in the shade as much as I could, figured I'd enjoy the coolness while it lasted. The support in the residential area was incredible...many families nursing coffee in their driveways, lots of young children to high 5, people with hoses to run through, people banging on pots and pans.
At the half, we headed back towards downtown Ottawa, just as the elites were nearing the finish, so both sides of the road were thick with spectators. The cheering was incredible and I drew on that energy to refresh me and carry me through the 2nd half. I saw Greg and my mom again, as well as my SIL.
The next segment of the race took us down one side of Rideau Canal. This part of the route coincided with the half route, so we were getting passed by the elite half-ers, who shouted encouragement as they went by.
The Dirty Thirties
Kms 30-38 were BRUTAL. A couple of long hills (but not steep, thankfully), semi-rural area (no shade) and ZERO crowd support as we headed beyond The Wall. Up to this point, I had been following the 4:45 pace bunny, but his 6:20/km pace was a bit too much for me to handle at this point, so I took more frequent walk breaks.
The final stretch took us back up the other side of the Canal towards downtown and met up with the back of the pack half-ers. There was a guy and a girl talking, probably not realizing there were marathoners in their midst, talking about those "stupid and crazy marathoners". If I had had any energy left, I would have snarked at them.
The last 10 or 12K, I was thinking a lot about my support team. I heard a flute/keyboard duo playing Bist du bei Mir by Bach - the song I walked down the aisle to! So it reminded me of Greg, but as for marathon motivation, not so much, as the lyrics translate to, "For you are with me, to my death and to my rest."
A guitarist playing Running Down A Dream - that's for Nancy and all my Spark friends.
I saw my SIL for the 2nd time at the 41 km mark, she was jumping up and down and screaming my name. At 40 kms, I was thinking, "only 14 minutes of running, DO NOT WALK!" but couldn't manage it. But I did think of something I said to a client, I told her I wanted to complete this marathon more than anything I had ever wanted before. I heard Beth, just like during the later stages of my 35 km training run, "PATTY YOU CAN DO THIS!" I also remembered why I wanted to do this...because I wanted to conquer running's ultimate challenge, the marathon!
The last kilometer. The crowds were HUGE, and my parents and Greg were about 100 m from the finish. I crossed the line in 4:47:15, official chip time. I cried when the medal was put around my neck.
Forever, no matter what happens in the future, I AM A MARATHONER!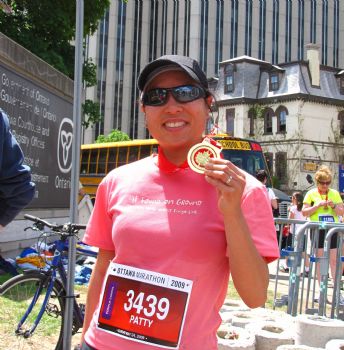 Field Placement: 2803 / 3579 (78.3%)
Age group: 30 – 34
Group Placement: 160 / 224 (71.4%)
Gender Placement: 894 / 1344 (66.5%)